Prize-winning Blue Badge Guide and author Rachel Kolsky has one of the widest range of walking tours and visits in London. BOOK YOUR OWN PRIVATE GROUP TOUR for as many people as you want or BOOK INDIVIDUAL TICKETS  for the pre-arranged PUBLIC TOURS.


HOUSE OF SCHMUTTER at Rich Mix on Sunday 24th January was a fantastic success All credit to Liat who arranged it .. over 1,300 people came along and around 140 of them joined me for my TASTER TOURS even though I was wearing a BAGEL on my HEAD!! I have provided proof!
More about bagels! The artist and illustrator Adam Graff came on my Rich Mix tour and sent me the lovely poster he designed of the Brick Lane Beigel Bake. Here is what it looks like and if you would like a copy please contact Adam.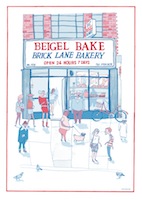 'BEHIND THE TERMINI'  has returned and you lovely loyal hardy walkers came out in the pouring rain to explore KXSP. Thank you!! . Full details and dates of the other termini are at PUBLIC TOURS. Next up is  is 'Antiques, Beatles and Cricket: Marylebone', on Sunday 6th March.
FREUDS IN HAMPSTEAD with JW3 was SOLD OUT which was a lovely way to celebrate my return to JW3. Thank you for supporting my tours there and I am thrilled to say that AT HOME WITH THE ROTHSCHILDS  is SOLD OUT too
There are lots of tours planned for March … including lots of my favourites – Literary Hackney and Literary Spitalfields, Bagels to Brady Street and, of course, my classic JEWISH EAST END tour which includes a visit to Sandys Row Synagogue –  check out the Public Tours page for full details.
NEW COURSES FOR CITY LIT AND BISHOPSGATE INSTITUTE  – 'Underground Tales'  is back by popular demand and nearly SOLD OUT so do book soon.  With BI discover the background and fabulous array of residents in a selection of London's historic cemeteries. At City Lit you explore the areas around four tube stations on the route of the  'Jubilant Jubilee Line'.
March means International Women's Day. You can follow in the footsteps of the REAL EVENTS on Rachel's popular women themed tours which salute the work of those women who campaigned and suffered in the cause of improving women's lives. Plan a few hours with your friends and colleagues and book your private tour of one of the favourites such as  'Wonderful Women of Westminster' or the 'Battling Belles of Bow' and hear the stories of Emmeline Pankhurst and her daughters Christabel and Sylvia and their supporters including the Pethwick-Lawrences, Emily Davison, Mary Richardson and the working women of the East End, the moderate campaigners led by Millicent Fawcett and  the men who also supported the cause.
There are plenty others – Hackney, Bloomsbury, Southwark, Belgravia …. contact Rachel for look at Go Women's London page for  more details and how to plan your tour.
VINTAGE GLAMOUR in the East End by Michael Greisman profiles wedding photos taken by Boris Bennett and continues to attract lots of attention. Take a look at the WEBSITE. Michael has a NEW project underway now – see the Go Jewish London page for more details.
FOLLOW ME ON TWITTER   –  @golondontours
If you have enjoyed a tour – please TWEET about it! Or mention it on FaceBook.  Thank you!!
JEWISH LONDON – My first book Jewish London was REPRINTED for the FIFTH time! The reviews have been wonderful. It is available in all good bookshops … and in the library on the Queen Mary cruise liner too! Click on the book cover above for reviews and book events. 

Please save this page as a favourite to keep up to date with new tours and the public walk schedule.
I am looking forward to seeing you soon.