Historian, author and popular prize-winning Blue Badge Guide, Rachel Kolsky has one of the widest range of walking tours and visits in London. BOOK YOUR OWN PRIVATE GROUP TOUR for as many people as you want or BOOK INDIVIDUAL TICKETS  for the pre-arranged PUBLIC TOURS.
NEWS! I was profiled in Time Out for the Quit Your Job feature. If you did not see the article, it is now also ONLINE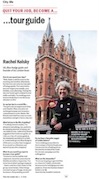 MORE NEWS! My new book is now underway … when not guiding or lecturing I am now feverishly writing the features for 'Whitechapel in 50 Buildings', due to be published later this year. Photographer and long-time educator in Tower Hamlets, Louis Berk, is taking the photos and I am writing the captions. More details will be coming soon with special advance order opportunities for everyone on my mailing list. See Good Reads for more details.
BOOKING OPEN FOR TWO *NEW* SPECIAL TOURS – 'Woodberry Down to Woodberry Park: Regeneration on the New River' – Wednesday 6th July. This is already SOLD OUT.  Bookings are still open for Murals, Markets, Cinemas and Chocolate: Buzzy Brixton – Wednesday 14th September. See Public Tours for details
'BEHIND THE TERMINI'  is well under way now. Full details of the last terminus of the season – Wonderful Waterloo on Sunday 5th June is at Public Tours. The Termini are taking a break for the summer but will be back later in the year … with a new Terminus area to explore!
MSCC have chosen two popular tours for the summer –  City Alleyways and Courtyards with the contrast of old and new and, if you have not yet experienced, All Change at King's Cross you have another chance in July. See Public Tours.
Thank you for supporting JW3.  Just one more tour for the summer season left and it  is one of my most popular walks,  Battling Belles of Bow. See Public Tours page for details.
NEW COURSES FOR CITY LIT AND BISHOPSGATE INSTITUTE  –  Places are going fast for  'The Magnificent Metropolitan Line', a series of four tours exploring the areas around Harrow on the Hill, Euston Square, Farringdon and Pinner tube stations. There is also Stokey: A Misty Village and In and Out the Angel for those who like an evening summer walk. See Public Tours page for details.
City Lit is running my Women's London series of tours this autumn – it always Sells Out quickly, so check your diary for the dates – 29th September to 27th October  and book soon!
Throughout the year you can follow in the footsteps of the REAL EVENTS on Rachel's popular women themed tours which salute the work of those women who campaigned and suffered in the cause of improving women's lives. Plan a few hours with your friends and colleagues and book your private tour of one of the favourites such as  'Wonderful Women of Westminster' or the 'Battling Belles of Bow' and hear the stories of Emmeline Pankhurst and her daughters Christabel and Sylvia and their supporters including the Pethwick-Lawrences, Emily Davison, Mary Richardson and the working women of the East End, the moderate campaigners led by Millicent Fawcett and  the men who also supported the cause.
There are plenty other women themed walks – Hackney, Bloomsbury, Southwark, Belgravia … contact Rachel for look at Go Women's London page for more details and how to plan your tour.
VINTAGE GLAMOUR in the East End by Michael Greisman profiles wedding photos taken by Boris Bennett and continues to attract lots of attention. Take a look at the WEBSITE. Michael has a NEW project underway now – see the Go Jewish London page for more details.
FOLLOW ME ON TWITTER   –  @golondontours
If you have enjoyed a tour – please TWEET about it! Or mention it on FaceBook.  Thank you!!
JEWISH LONDON – My first book Jewish London was REPRINTED for the FIFTH time! The reviews have been wonderful. It is available in all good bookshops … and in the library on the Queen Mary cruise liner too! Click on the book cover above for reviews and book events. 

Please save this page as a favourite to keep up to date with new tours and the public walk schedule.
I am looking forward to seeing you soon.