Prize-winning Blue Badge Guide and author Rachel Kolsky has one of the widest range of walking tours and visits in London. BOOK YOUR OWN PRIVATE GROUP TOUR for as many people as you want or BOOK INDIVIDUAL TICKETS  for the pre-arranged PUBLIC TOURS.

BOOK NOW for the tours coming up … see PUBLIC TOURS for details.
The debut tour at Balls Pond Road Cemetery was a great success and a NEW DATE has been scheduled – Sunday 25th October. Book now! Another favourite cemetery tour is being REPEATED, 'Furniture to Finance, Politics to Prayer: Willesden' –  Wednesday 14th October. Book now!
NEW! 'Rothschilds to the RAF'. Don't miss this day trip which includes an EXCLUSIVE tour of Halton House, once home to Alfred de Rothschild. Tuesday 10th November. Book now! 
'SUFFRAGETTE'  – if you are planning to see the film why not follow up by following the footsteps of the REAL EVENTS story on Rachel's popular tours which salute the work of those women who campaigned and suffered in the cause of women's suffrage. Plan a few hours with your friends and colleagues and book your private tour of 'Wonderful Women of Westminster' or the 'Battling Belles of Bow' and hear the stories of Emmeline Pankhurst and her daughters Christabel and Sylvia and their supporters including the Pethwick-Lawrences, Emily Davison, Mary Richardson and the working women of the East End, the moderate campaigners led by Millicent Fawcett and  the men who also supported the cause.
Contact Rachel for more details and how to plan your tour.
Don't forget you can recognise several London locations in the film including Princelet Street which features on my 'Wonderful Women of Whitechapel' tour and many others – here is when I spotted Carey Mulligan being filmed.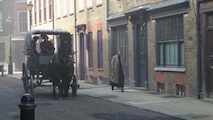 NEW FOR LONDON WALKS – 'Stokey: A Misty Village'. One of Rachel's most popular tours is now in the London Walks repertoire. Don't miss its debut on Saturday 7th November.
SOLD OUT! 'Women's London: The Untold History'.
LAST FEW TICKETS! Book now for 'The Jewish East End' – Sunday 18th October and 'Baskets, Bananas, Bags and Brushes: Spitalfields Market' – Sunday 13th December
'BEHIND THE TERMINI' continue. Full details and dates are at PUBLIC TOURS.  The next tour timetabled is WATERLOO, come along on Sunday 18th October.
VINTAGE GLAMOUR in the East End by Michael Greisman profiles wedding photos taken by Boris Bennett and continues to attract lots of attention. Take a look at the WEBSITE. Michael has a NEW project underway now – see the Go Jewish London page for more details.
FOLLOW ME ON TWITTER   –  @golondontours
If you have enjoyed a tour – please TWEET about it! Or mention it on FaceBook.  Thank you!!
JEWISH LONDON – My first book Jewish London was REPRINTED for the FIFTH time! The reviews have been wonderful. It is available in all good bookshops … and in the library on the Queen Mary cruise liner too! Click on the book cover above for reviews and book events. 

Please save this page as a favourite to keep up to date with new tours and the public walk schedule.
I am looking forward to seeing you soon.